SAN PABLO 8v8 MEN'S & co-ed
The San Pablo 8v8 Men's & Co-ed leagues are a great place for recreational and competitive soccer! BAASL offers two separate days of soccer at Rumrill, on Tuesday and Thursday nights. This league is offered all year. BAASL is proud to have the opportunity to be one of the first users of the brand new San Pablo Rumrill Sports Park, which was opened September 2015.
¡Las Ligas de San Pablo de 8v8 para Hombres y Equipos Mixtos (Co-Ed) es el lugar para el fútbol recreativo y competitivo! BAASL ofrece ligas diferentes en Rumrill los martes y los jueves por la noche. Esta liga se ofrece varias temporadas al año. BAASL se enorgullece de tener la oportunidad de ser uno de los primeros usuarios de los nuevos campos de futbol de San Pablo Rumrill Sports Park, el cual fue inaugurado en septiembre del 2015.
the details
All games are held weekly at the San Pablo Rumrill fields. Games are 8v8 including the goalkeeper, played on a specially-lined 8v8 synthetic turf field, and officiated by certified referees. Teams are allowed up to 15 players on their roster. All matches are 50 minutes long (two 25 minute halves), and played in the evenings at 8:15 p.m., 9:15 p.m. and 10:15 p.m. All family and friends are welcome to attend games as spectators.
Todos los juegos se llevan a cabo semanalmente en los campos de San Pablo Rumrill. Los juegos son de 8v8 incluyendo el portero, jugado en campo de césped sintético hecho especialmente para los juegos de 8v8 y arbitreados por oficiales con certificación. A los equipos se les permite hasta 15 jugadores en su plantel. Todos los partidos son de 50 minutos de duración (dos mitades de 25 minutos), y las horas de los juegos son a las 8:15 p.m., 9:15 p.m. y 10:15 p.m. Los familiares y amigos de los jugadores son bienvenidos como espectadores.
RECENT WINNERS
Summer 2017
Tues Div A-TBD
Tues Div B-TBD
Thurs Div A-TBD
Thurs Div B-TBD
Thurs Co-Ed-TBD
Spring 2017
Tues Div A-LEON
Tues Div B-Osos
Thurs Div A-TBD
Thurs Div B-TBD
Thurs Co-Ed-TBD
Winter 2017
Tues Div A-Los Magos
Tues Div B-TTAF
Thurs Div A-San Pablo United
Thurs Div B-Latino Records
Thurs Co-Ed-LPs
Fall 2016
Tues Div A-Novato FC
Tues Div B-La Academia
Thurs First Div-Huevones FC
Summer 2016
Tues Div A-Tecatos
Tues Div B-Los Feos V.I.P.
Wed First Div-Los Guarumo FC
Thurs Div A-Tequileros FC
Thurs Div B-Pura Vida CF
Spring 2016
Wed Div A-Futboleros
Wed Div B-San Pablo United
Thurs Div A-FMC
Thurs Div B-Tequileros FC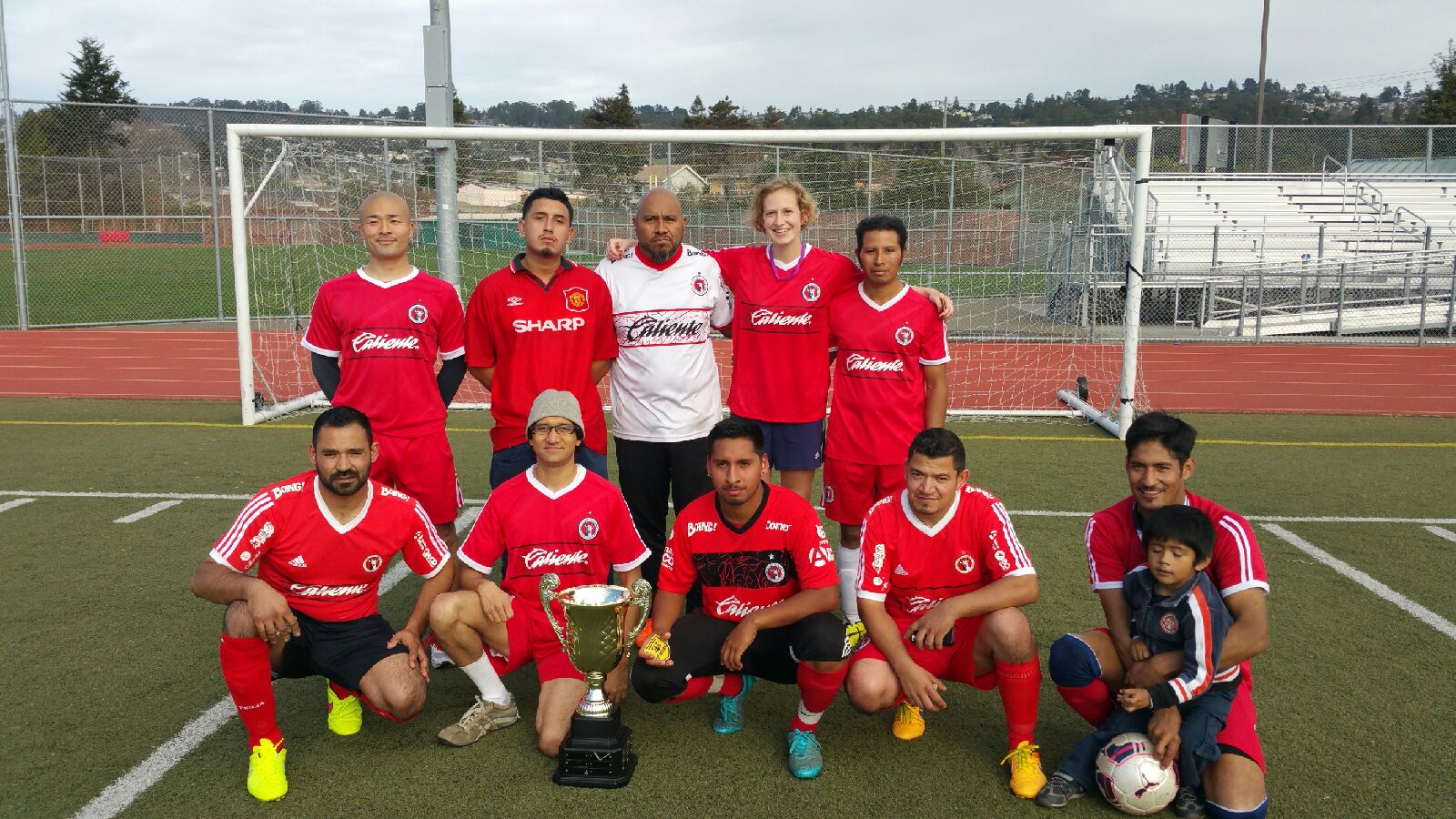 1509 Rumrill Blvd
San Pablo, CA 94804
LEAGUE POLICIES
In order to ensure well-regulated games, BAASL asks all teams to wear identical jersey tops with numbers on the back. All players must present their official BAASL player pass at each match. And all games are officiated by some of the Bay Area's most experienced, certified referees.
Slide-tackles are permitted in the men's-only leagues but are not allowed in the co-ed league. BAASL primarily uses FIFA Rules to govern matches, with a few exceptions as listed in the BAASL 8v8 Rules. Additional League Reminders should be viewed on the Schedule & Standings page.
Playoffs and Championship games are held at the end of the season and most teams will play in the finals. Winning teams are awarded custom-designed BAASL champion medals, a permanent plaque on the BAASL perpetual trophy, and a 10% team fee discount for the following season.
Para mantener una liga segura y organizada, se les pide a los equipos que lleven la misma playera con números de identificación en la espalda. Cada jugador debe presentar su pase oficial/credencial al árbitro antes de entrar al campo. Se requiere que todos los jugadores estén registrados al plantel del equipo.
Se permite barrer (slide-tackle) en las ligas de hombres. No se permite barrer en las ligas mixtas. BAASL utiliza reglas de la FIFA para gobernar los partidos, con algunas excepciones las cuales se pueden ver en las Reglas de BAASL 8v8. Recordatorios adicionales que se deben ver en la página Schedule & Standings.
Hay Semi-finales y partidos de Campeonato. La mayoría de equipos jugarán en todos los juegos finales. Los equipos ganadores serán premiados con medallas de campeón de BAASL, una placa permanente en el trofeo perpétuo de BAASL, y descuento de 10% de la inscripción para la próxima temporada.