ALBANY CO-ED LEAGUE
The Saturday Albany Co-Ed Soccer League is one of the most tightly-knit soccer communities in the Bay. Enjoy a beautiful day of soccer with morning and afternoon games. Albany Cougar Turf Field is easily accessible by BART, a few minutes' walk from El Cerrito Plaza BART station. The weather is nearly perfect year-round and players enjoy the welcoming atmosphere built by teams that have played together more than 10 seasons.
the details
The Saturday Albany Co-Ed 7v7 league hosts Spring, Summer, Fall and Winter seasons. Every season, 16 teams gather to enjoy playing across two Divisions, A and B. All games are 7v7 including the goalkeeper.
Matches are played on a half-field, 70 minutes long (two 35 minute halves), and played as early as 9:30 a.m. and as late as 3:30 p.m.
As all games take place on turf fields, they are never cancelled when it rains.
RECENT WINNERS
Winter 2017
Division A-Chicano Batman
Division B-U.D.G.
Fall 2016
Division A-Viraka FC
Division B-Quakes FC
Summer 2016
Division A-FC Vert
Division B-Sour Patch Kids

Winter/Spring 2016
Division A-Viraka FC
Division B-Good Times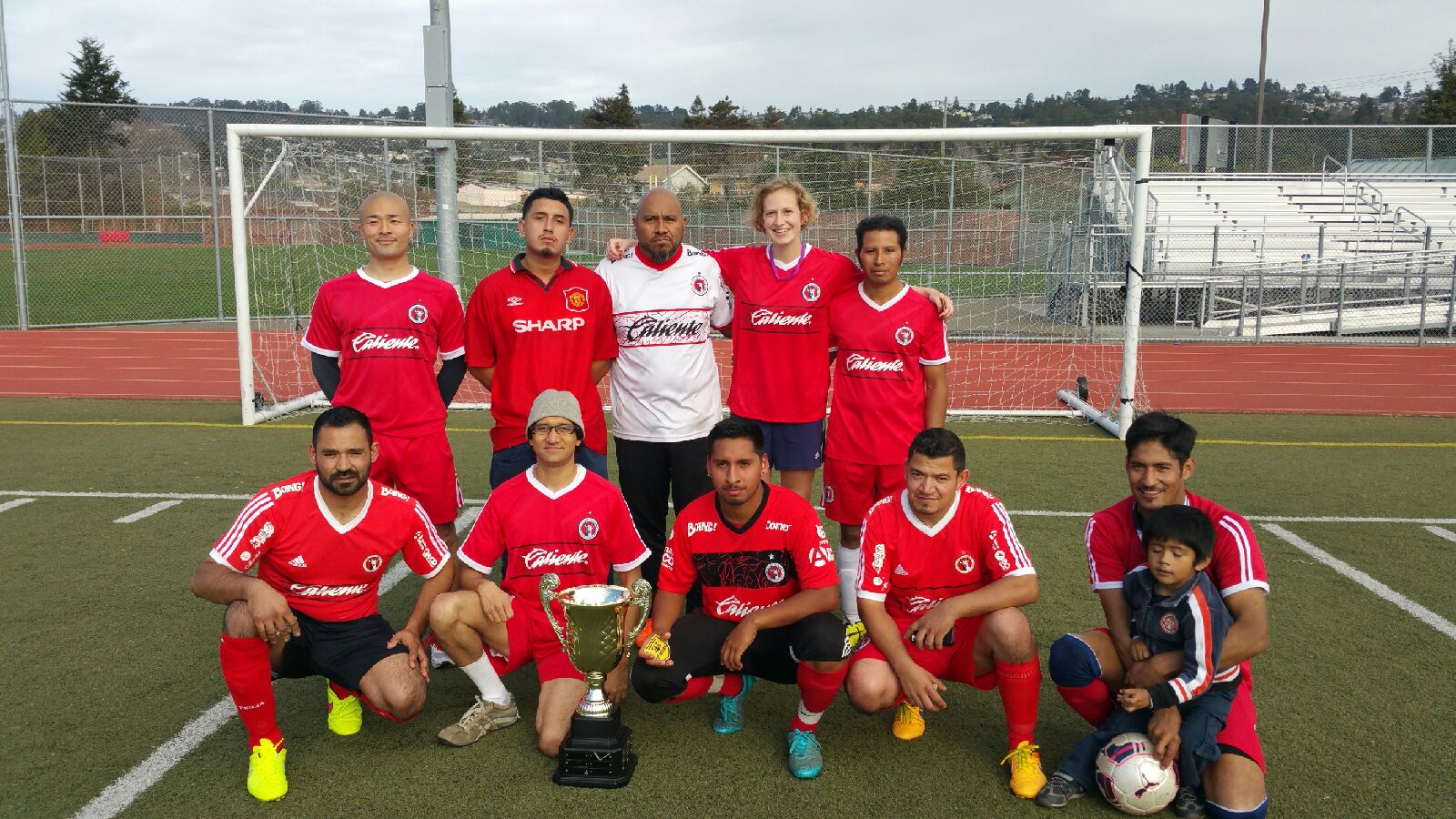 1259 Brighton Ave
Albany, CA 94706
LEAGUE POLICIES
In order to ensure well-regulated games, BAASL asks all teams to wear identical jersey tops with numbers on the back. All players must present their official BAASL player pass at each match. All games are officiated by some of the Bay Area's most experienced, certified referees.
In this Co-ed league, all teams must have two female players in the game at all times. If only one female is available, a male designated player (age 44+) can substitute for the second female player. If only one female is available, and no male DPs are available, then the team must play with one player less. If there are no females available to play, the match is subject to a forfeit.
BAASL primarily uses FIFA Rules to govern matches, with a few exceptions as listed in the BAASL 7v7 Rules of Play. Schedule and Standings can be viewed using the link at the top of this page. Additional League Reminders should be viewed on the Schedule & Standings page.
Championship games are held at the end of the season. Winners take home custom-designed individual BAASL champion medals, receive a permanent plaque on the BAASL perpetual trophy, and are awarded a 10% team fee discount for the following season. Multiple-season winners receive additional awards.